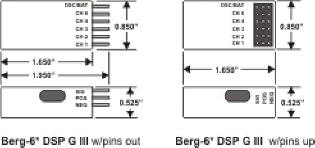 Narrow band: 7 KHz or better

Weight (receiver with crystal): 9.5 grams

Weight (case): 3.5 grams

Dimensions: See drawing

Operating voltage: 3.6 ~ 6.0 Volt *

Operating range: Line-of-sight

Crystal: Berg, R/C-Direct or JR

APD auto pulse detection will work with
all ppm FM transmitters

Output channels: 1, 2, 3, 4, 6 or 5 programmable
Notes:
| | |
| --- | --- |
| | Receiver will operate with full range on a 3-cell NiCad pack, thus allowing for single-cell failure. It should be noted that the servo response will become [much] slower when operated under these conditions. |
| | Receiver is reverse-voltage protected; this means that accidental reversal of battery voltage will not destroy it. |

Click here for the instruction manual
The new berg5*DSP receiver deserves the name micro-P -- after all, it has a tiny micro-Processor (micro computer) on board the micro processor performs all the critical signal decoding in software contrary to the pulse detection you will find in other, older receivers, the control pulses are digitally measured and verified to be valid, before the are passed on to the servos. This unique Digital Signal Processing technique (DSP) results in uncanny solid servo lock during flight; even if short losses of signal occur, the berg-designed DSP decoder passes on only valid control signals on to your airplane.
this way, you get the security of digitally-supervised signal processing similar to that achieved in much more expensive PCM radio control systems, without the long recovery delay disadvantages of PCM
Now with TSR (Transmitter signal recognition) , the berg rx learns your transmitter signature allowing the berg rx to ignore other transmitters.